There are many Ways to Help 4 Paws 1 Heart Fund Medical Treatment for the Abandoned and Abused
There are many great community partners who help non-profit organizations raise money for their cause.  If you haven't done so already please sign up, use the link or download the app,  If you ever have any questions or other ideas, please contact diana.4paws1heart@gmail.com
KROGER COMMUNITY REWARDS
Everybody needs food and household supplies, so make your shopping count!  krogercommunityrewards.com.  Kroger, a great community partner, helps non-profits by providing a percentage of their non-cigarette, liquor, and gas sales to those charities chosen by their customers through their Community Rewards Program. If you don't have an account already, create an account.  Once you have an account established, select your preferred store location, use the number on your Kroger Rewards Card (or the tab on your key chain), and select 4 paws 1 heart (YP068) as your charity. If you have trouble, call the customer service number and they will help you out immediately.
AMAZON SMILE
If you shop Amazon, shop through this link:  https://smile.amazon.com/ch/27-3247706.  .05% of your purchase will be donated to 4 Paws 1 Heart.
CHARITY GIFT CERTIFICATES
Do you have an unwanted gift card or one with an unused balance on it?  You can DONATE YOUR CARD BALANCE to 4 Paws 1 Heart.  Go to:  www.charitygiftcertificates.org.  Follow the easy steps to donate your gift card to 4 Paws 1 Heart.  You will receive a tax receipt from them.
CHEWY
Place your first order with Chewy.com and they will donate $20 to 4 Paws 1 Heart.  Use this website address to link to our page:  www.chewy.com/rp/6579
UPCOMING EVENTS:
APRIL
APRIL 10, 2019 – WINE TASTING AT FILIPO MARC WINERY, CLINTON TWP.  $40 PER PERSON; EVENING STARTS AT 6:45.  LIGHT HORS D'OERVES, RAFFLES, AND EDUCATION ON HOW TO ENJOY WINE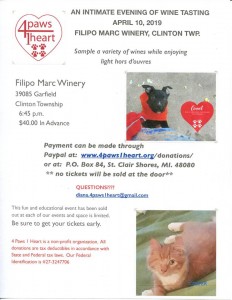 MAY
MAY 4, 2019 – SHOPPING AT ALEX AND ANI AT PARTRIDGE CREEK, CLINTON TOWNSHIP.  SHOP BETWEEN 1-4 PM AND 15% OF YOUR QUALIFIED PURCHASES WILL BE DONATED TO 4 PAWS 1 HEART.  An additional BONUS — OUR CANINE MASCOT, HERCULES, (read his journey by searching his name on our home page) WILL BE THERE TO GREET EVERYONE.
MAY 11, 2019 – 8TH ANNUAL BOWLING FOR 4P1H  – ENJOY AN EVENING OF BOWLING, RAFFLES, AND PIZZA AT HARBOR LANES BOWL, ST. CLAIR SHORES.  $20 PER BOWLER BEFORE APRIL 30 — GET YOUR RESERVATIONS IN EARLY – THIS IS ALWAYS A SELL OUT.  PAYMENT CAN BE MADE THROUGH PAYPAL BY USING THE DONATE LINK ON THIS PAGE — JUST NOTE THE EVENT AND THE BOWLERS.  OR, BY MAIL, SEND YOUR CHECK TO P.O. BOX 84, ST. CLAIR SHORES, MI  48080 CONTACT DIANA AT:  diana.4paws1heart@gmail for more information.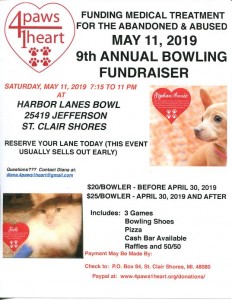 MAY 26, 2019, 1:00 PM – 4P1H WILL HAVE A FLOAT IN THE ST. CLAIR SHORES MEMORIAL DAY PARADE.  THIS YEAR WE WILL BE HONORING OUR VETERANS, LAW ENFORCEMENT, AND AXE, ST. CLAIR SHORES' FALLEN CANINE OFFICER.
JULY 30, 2019 – THE OVATION YACHT WILL ONCE AGAIN BE DONATING A PORTION OF EACH TICKET FOR THEIR 'OLD WORLD WINES' SUMMER CRUISE.  TICKETS CAN BE PURCHASED AT:  www.summercruiseseries.com/2019_old_world_wines/
AUGUST
AUGUST 17, 2019, 10 AM – NOON – ST. CLAIR SHORES AQUA FEST 4p1h FUN 5K WALK/RUN       REGISTRATION 9 AM TO 10 AM, GAZEBO AT BLOSSOM HEATH PARK (entrance north of 10 mile on east side of Jefferson.  Sign Up through Paypal by using the DONATE link on this Home page.  Provide names, cost is $25 per person, no additional cost for children or dogs.  We will walk the Nautical Mile and return to the gazebo for hot dogs (veggie or meat) and friendship.
---