2017 UPCOMING EVENTS – For more information, contact Diana at diana.4paws1heart@gmail.com
May 12, 2017 – Celebrity Bartender Challenge – BlackFinn, Partridge Creek, 7pm to 8pm  The celebrity bartender with the most tips will have his/her tips matched by the BlackFinn and possibly Tito Vodka.  Stop in and donate a generous tip — all to benefit 4 Paws 1 Heart.
June 3, 7:15 pm – Harbor Lanes Bowling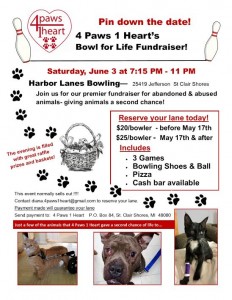 July 14, 6:00 pm to 9 pm – Alex & Ani @ Partridge Creek   15% of sales will go to 4 Paws 1 Heart.  While you're there enjoy the Sounds of Summer at Partridge Creek, Clinton Township
July 15 – Aqua Fest Fun Run/Walk – Walk/Run the Nautical Mile in St. Clair Shores, MI.  Registration starts at 9 am at the Jefferson Yacht Club which is located in the Jefferson Beach Marina/WaterMark drive.
August 1, 6:30 pm – Ovation Yachts Summer Cruise – Enjoy Jazz on the first level and a dj on the third level.  Food and Cocktails are included in the price.  Check out the website:  http://www.summercruiseseries.com/jazz-it-up.html
August 19, 10:00 am – Macomb Bike – Pedal for Paws – Proceeds will be given to 3 charities; one of which will be 4 Paws 1 Heart
August 19, 6:00 p.m Take Me Out to the Ball Game at Jimmy Johns Field
Stay tuned for more 4 Paws 1 Heart Events