It is with a very heavy heart that I post the following from Gina ~ diana:
"R.I.P. Sweet Annie…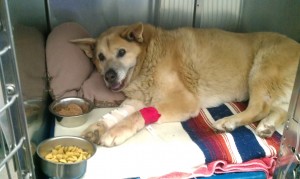 Our sweet Annie was humanely euthanized the other evening because she was getting progressively worse.  It was a heartbreaking decision but she let me know it was time.  Annie had no further will to live; I think her spirit began to die that day, January 15, 2013,  when she was hit by a car.
When Annie arrived to the emergency, it took us several hours just to stabilize her because her body was 'crashing' from being in a critical state of shock.  She had at least seven broken ribs, nerve damage in her leg, a broken tooth, and trauma to her liver, and probably more that we don't even know existed.  Maybe I should have let her go then but I would have always wondered if we could have saved her.  I wanted to try for her and for the sake of finding her owners and giving them the chance to continue her care or say goodbye to her.
4 Paws 1 Heart is about giving animals like Annie a second chance.  Funding for medical care is very expensive and a 'stray' animal is generally put down immediately because of cost and the lack of an owner.  This is where our group has been fortunate enough to make miracles happen for injured stray animals.
Annie had a guarded to grave prognosis from the start but we did everything in our power to save her life.  We really believed that with love and everyone's prayers, she could recover.  But, her injuries were too severe.  After eight days of intensive care, Annie officially gave up and I couldn't let her suffer.  The doctors did all they could do and said that we went above and beyond for her, so I knew we made the right decision.
I got down and held her tightly, kissed her on her forehead, and told her what a special, sweet girl she was as she slipped away in my arms.  No more pain…
Our group wants to thank all of you for your support and for all of the prayers you said for Annie during her hospitalization.  I will never forget her. ~ Gina"