Daily Archives:
June 22, 2013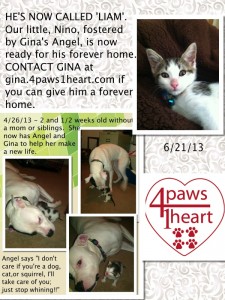 Our little Nino is growing up but he still needs to find his forever home.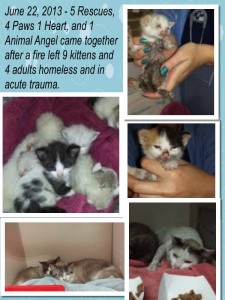 "On June 22, 2013 a fire occurred in a mobile home located in a Chesterfield Township mobile home park. The destroyed home belonged to a woman who was housing seven adult cats and 9 kittens. When the firefighters arrived they found two dead female cats lying on top of their kittens, obviously trying to protect them from the fire. The kittens were all alive but in dire condition. Another adult cat perished in this fire as well. The four adult cats who survived, as well as the nine kittens, were taken to Advanced Animal Emergency Hospital in Clinton Township where they were all treated for smoke inhalation. They were all kept on oxygen overnight and into the next day. Amanda, the hospital manager reached out to Gina of 4 Paws 1 Heart for help in contacting rescues who might be able to take in the animals. Michelle, from A Rejoyceful Animal Rescue, immediately stepped up and went to the hospital. Another call for help was immediately put out to the rescue community. A total of thirteen cats needed to be placed; nine of them kittens who required bottle feeding. Four of the kittens were about 2 weeks old, and the other five kittens were days old and in critical condition. Two of the days-old kittens also had burns and needed to be transported to the Oakland Veterinary Referral Service hospital for more specialized care.
Five rescue organizations came together that day to provide homes and care for theses cats. The rescues are: A Rejoyceful Animal Rescue, Futures for Felines, Feline Friends, Paws For A Cause Feral Cat Rescue, and New Beginnings Animal Rescue. Advanced Animal Emergency Hospital generously donated their services and an "Animal Angel" paid the hospital bill for the two kittens who are now doing well and are with a rescue. All of the animals were surrendered by the owner.