6/16/16 – We only have a little over 3 days left for our "Honor Your Father – Father's Day Challenge" and we are $1,700 short of meeting the challenge. Please consider honoring your dad with a gift of life.
This is Ember. She was tied with an extension cord to a bench in front of Detroit Fire Department Engine 52/Ladder 31. The brave and caring firefighters brought her into the firehouse and bathed and fed her. They then contacedt Make A Difference Rescue who then contacted us for medical help. In her first visit to the vet, Ember was not only found to be suffering from Mange but she is also Heart Worm positive. 4 Paws 1 Heart paid for Ember's initial treatments and will be paying for her heart worm treatment (estimated to be about $800).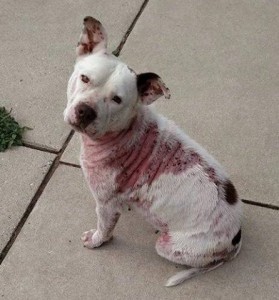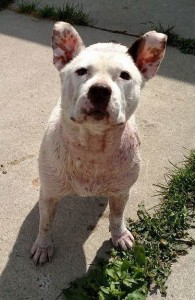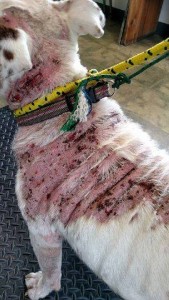 This is what I mean when I say "Make a donation and save a Life" because that is what your donation does. With the exception of Gina's telephone bill, all dollars donated go directly to paying veterinary bills. Please say a little prayer for Ember and for all of those men and women firefighters who risk their lives for not only humans but for those who have been left behind.