10/4/22 – Dr. Kern and her staff are the best!! Praying we get in lots of donations so we can continue to help the many kitties who don't have a mom, aunties, and supporters like Chance does. – diana.
Sweetest Day $2,000 Match Is On
4paws1heart.org/donations P.O. Box 84, St. Clair Shores, MI. 48080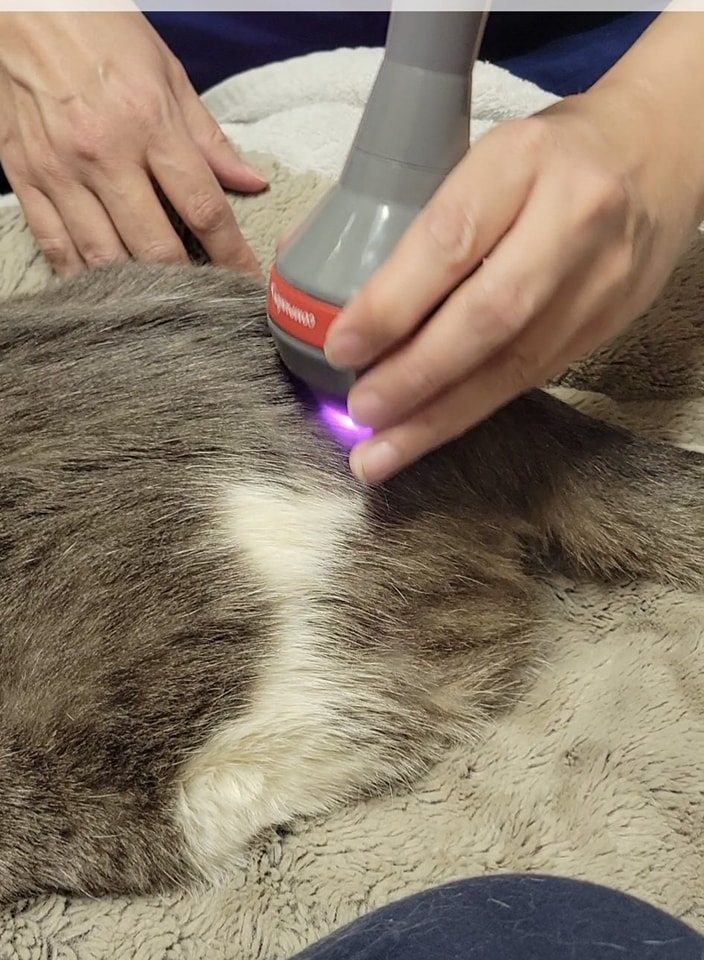 CHANCE: I had a great appointment at Pawsitive Steps Rehabilitation & Sports Medicine today. Dr. Kern and her staff are amazing! I remember Dr. Kern and all my friends and relaxed pretty quickly. Dr. Kern gave me a full exam and took all my measurements. Annnd I got to meet the lovely new vet (you know I gotta schmooze the ladies( Dr. MacDonell). She studied eastern medicine, so I get the best of both worlds! Dr. Kern gave me my acupuncture and my friend Cathryn gave me my laser. By the time I was all done I was so relaxed I couldn't keep my eyes open! Dr. Kern thinks there's a combo of things going on including my spine issues, lots of inflammation too. She wants me to come back once a week for now to get my acupuncture and laser. We need to get some Cosequin on board and possibly some herbal meds. Annnd Dr. Kern prescribed an Assissi Loop for me to take home. Moms going to treat me 15min…3x a day. The Assissi Loop is an amazing tool we have used before for me, Carla, little Billy and a few others. It increases blood flow, helps with pain and reduces inflammation. We've seen great success with it! I'm so thankful the donors of 4 Paws 1 Heart who made todays visit possible and so we were able to get my Assissi Loop. Please, please continue to donate. We know times are tough, but don't forget…now through the 17th there is the Sweetest Day Match going on which will match every dollar you donate up to $2000 thanks to two wonderful angel humans!
https://www.facebook.com/asecondchanceforchance
Thankyou Team, watch for more from my appt today later tonight. With all of you, 4 Paws 1 Heart, Dr. Z, Dr. Kern & Dr. MacDonell I hope to soon be back to my old self in no time. I got a dream Team!