11/22/22 – Please continue your prayers for Chance. It seems like only yesterday when the village came together to save this very sweet boy. He was at the Genesee County Shelter. After being neutered, he became paralyzed and then he was out on the schedule to be euthanized. But before that happened a volunteer called out for help and a very kind woman who we had assisted before with rescues contacted us to see us we could help if she took him in. That person was Denise Najera, now the 'famous' Foster mom of our boy Chance. Over the years 4 Paws 1 Heart has been committed to Chance's medical needs. His journey can be followed on our website. And after many years, he again needs our significant help and prayers. Your support makes such a difference in the lives of so many. Thank you!
P. S, don't forget to vote in the Detroit News Cheer for Charity contest (we are still leading with a goal to get into Round 2) and the First State Banksgiving contest. Both links are clickable on their names preceding and facebook pages following – Detroit News contest 4paws1heart facebook page & First State Bank contest 4paws1heart facebook page
4paws1heart.org/donations P.O. Box 84, St. Clair Shores, MI. 48080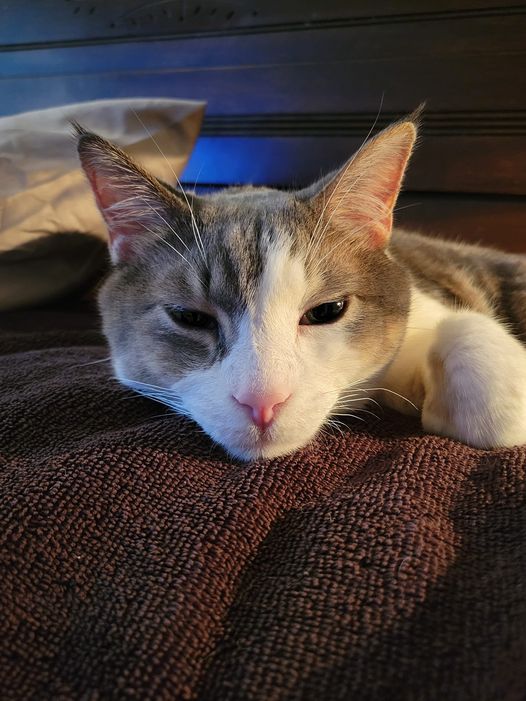 Somebody is sure pooped out!
Hi Team, mom here. I'm sorry about the long wait for the update. Its been a long, hectic day and I was also waiting this evening for the emailed summery of todays visit as its hard to remember everything. So here's what we know so far….
Today Chance had a full body scan and a urinary ultrasound. His kidneys have mild mineralization, but no obstructive stones or masses. His bladder walls were of normal thickness, but some debris was noted in his urine which may be protein, fat deposits or inflammatory cells. There was also a concern for onset of Diabetes due to his huge increase in thirst, and his glucose level was elevated since last ck. A sample was collected and will be sent off for full culture and urinalysis. The results wont be till next week and that will tell us more.
Particular point of concern a new finding of a lack of proprioception (lack of awareness of where his feet are in space) and his "quick" spinal reflexes. There is also some calcification of his discs.
Dr. Okonkowski has sent Chances scans out for a full radiologist interpretation and evaluation of his abdominal organs including urinary system, chest, limbs, spine and associated bony structures.
Her initial feel is he is having neurological setbacks associated with his original paralysis which is causing all his current urinary and hind weakness issues. We wont know anymore until the tests today come back next week and then we will know next steps. Please continue to keep our SuperHero in your prayers. As soon as I know anything more I will let you know Team. Meanwhile we got some snuggling to do.
Please, please don't forget to vote for 4 Paws 1 Heart…we are still in the lead and we have to get into the next round to have a chance at winning=lots of more animals helped!!!!
Thank you 4 Paws 1 Hear.t All the special needs furry kids who have come through our doors would never have gotten their Second Chance if not for you and all the wonderful supporters. We have a lot to be thankful for