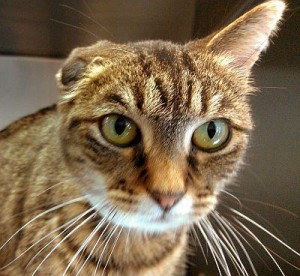 4 Paws 1 Heart is happy to send some medical dollars to help in the recovery of Bunny. Anyone interested in this little sweetheart should contact Michigan Cat Rescue. ~ diana
Bunny is one of our newer rescue cats. She's so sweet. She is about 2 yrs old. We rescued her just before she was supposed to be put down. Nobody would adopt her/rescue her when she was there. Why? Because so many people made horrible comments that she's ugly and "unadoptable." Its very sad that people judge animals based on appearance.
Bunny is a wonderful cat who deserves a loving home. Her ear is damaged from a horrible ear infection that was never treated in the past.
Bunny weighs only 3.5 lbs, she was starving for a long time on the streets.
We are trying to feed her extra food to get her to put some weight on. Right now she suffers from an intestine infection that she's on medication for.
Please keep Bunny in your prayers, and if you'd like to help sponsor Bunny any donation would be a blessing to us to help her. We can use it to buy food and to help pay for her veterinary care.
Thanks for caring and for following us here on FB.