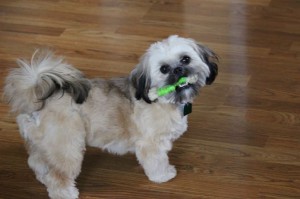 Remember "Gina's Babies" — An update from Makayla. ~ diana
Happy Tail Update from Makayla!!!We're so very thankful that this sweet girl's adoptive parents Dennis and Carol helped Makayla write this awesome update e-mail:
"I am enjoying the time up north and new found freedoms. I have a spacious yard and they tell me that there is wild life here, but I have yet to actually interact with them.
At nine months, I think I am at my full growth. I have become quite the "princess" and even have my fur-ever parents trained to my way of thinking. It's not easy getting them to comply some days.
I have outgrown two "carry cages" so would like to donate them to NBS. Please let us know if you would like them and how to get them to someone from NBS.
I am sending a picture of me taken recently…..you can see how pretty and precious I am. I look a bit "scruffy" but am due for my grooming on Tuesday."
What a beautiful little lady!! Thank-you so very much Carol for sending us a wonderful picture of her all grown up!