11/3/14  If you can, watch the 5:00 WDIV  (Detroit)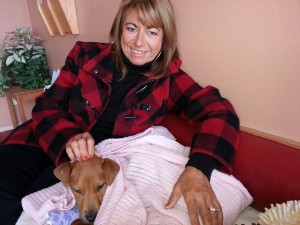 news tonight. Gina and Katniss will be on. In fact they just showed the promo on the 4:00 news. You can also watch it online in case you miss it.

I was with Katniss today and my heart broke. I kept her covered up because it was cool in the room and she is literally skin and bones. She is so emaciated, the newscaster was even shocked when he touched her. Her tail just hangs and her spine is curved from being in a cage not big enough for a kitten and only God (and the monster who did this) know for how long. Of all of the dogs Gina has brought into my life, they have always wagged their tails when they were in our care but not Katniss. I didn't want to leave her; her big eyes just looked up at me while she rested her head on my leg.
As I earlier reported she had emergency surgery early this morning; Gina feared there was a blockage. Sure enough there was about a pound of fabric in her 12 lb. body. She should be at least 25 to 30 pounds for her age and breed. We feel pretty confident that we can help with her physically but our true concern is her spirit. When she has accidents (which hasn't been often) in her kennel, she cowers in a corner like she's been beaten before. We are praying that we can get her into her foster home in a few days and get her out of the hospital. As with any hospital, sick animals come in and we don't want her to be exposed any longer than needed. Once she is with the foster she will be very loved and cared for. She will need weeks of recovery and stability and physical therapy and most important LOVE. Fortunately, 4 Paws 1 Heart has access to some of the best doctors around for every need possible and we are committed to making sure this sweetheart knows the love of a human. ~ diana