For every dog in need of our help, there are 10+++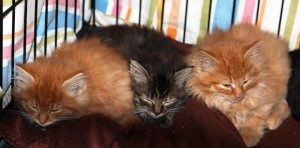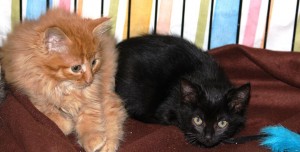 cats/kittens injured, abandoned, sick, or alone. Here is a message referred to us from Jo Addington who has been trying to find homes for many felines this year. Please share, and if anyone can give this family some shelter while they get stabilize, please contact Jo at joadd18@gmail.com ~ diana
"Hello Jo,
First, thank you so very much for helping this family of kittens/momma. We appreciate 4 Paws 1 Heart's willingness to step in and have momma cat's wounds looked at. She has done an incredible job taking care of her adorable babies in the toughest of conditions – now it is time for her to be taken care of. She kept those kittens warm and healthy – many times sacrificing her own need for food. She is estimated to be between 3-5 years of age. She was definitely someone's pet that was dumped in the woods by Marylou's house. She has 4 kittens – 2 orange fluff balls, one grey/brown pile of fluff and one sleek black (this one is the runt). We are estimating the babies around 5-6 weeks. They can be held and are starting to purr when given kitten rubs. They are still scared and could use an environment where someone could give a little time to continue to earn their trust. Momma is a dilute calico. The upper lip on the left side of her face is missing . It is obvious that she was attacked at some point and endured a painful healing process. At this time she has tested positive for Feline Leukemia, however, the vet indicated that she should be tested again due to a possible false positive given her stressful situation. The kittens can be tested in 6 weeks. Until then – we are praying for a foster for the babies as well as mom. They are currently in an x-large crate in my garage (with a heater running and warm blankets, etc). They all have been through so much and I would like nothing more than them to full compassion and love.
I know I wrote a lot here – sorry. I am passionate (as is Marylou) about stray and abandoned animals. We both have rescued several that are now permanent fixtures of our homes. I am unable to keep them long-term given my 3 other rescue cats (one who is elderly and has her own illness).
There are several pics for you to choose from. If you have any questions – please let me know.
Kari"