1/20/23 – Today seems to be the day for updates. Here is one on our boy and feline mascot, Chance. – diana
4paws1heart.org/donations P.O. Box 84, St. Clair Shores, MI. 48080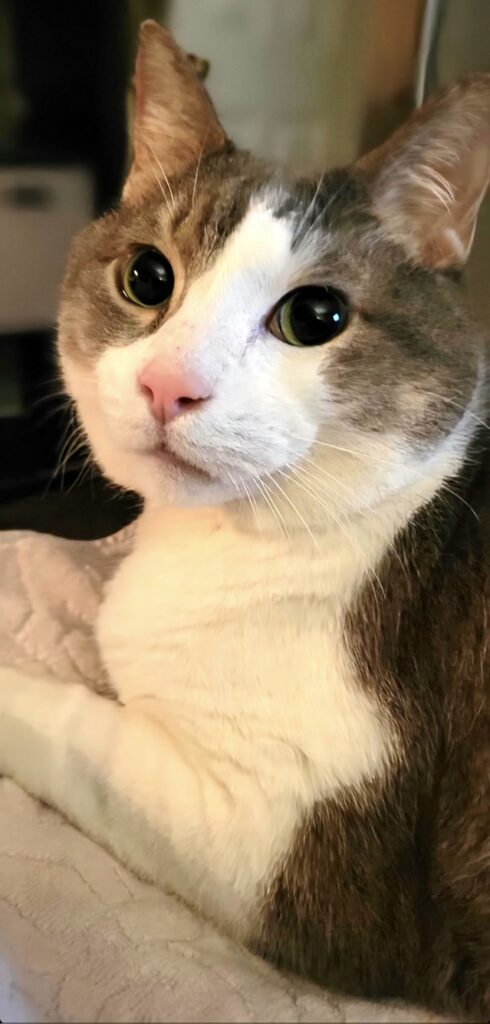 CHANCE: Hey there SuperHeros!!! Mom and I thought it was time to do an update on me.
So…mom is seeing some good results after my 2nd Solensia Injection. I'm not walking as low as I was and I'm "perkier". So YAY for Solensia and mom says I will probably stay on it going forward. But…although the Solensia is helping with my arthritis, it's not helping with my bladder issues. The Proin isn't making much difference either. We were waiting to see if these new meds were going to do the trick before revisiting the MRI plan. On the low end it would be 2,470.00 on the high end 2,934.00. With Ct scan and all the other tests and meds it will definitely exceed what we raised in my fundraiser. Mom has spoken to Dr. Palma, Dr. Z and Auntie Di…we all want me to get the right treatment plan going forward so I can live my best life and get back to my SuperHero duties!
So mom has some details to talk over with Dr. Z but we will be rescheduling my mri again.
In the meantime please don't forget moms Birthday Fundraiser for 4 Paws 1 Heart. There's only 5 days left and we're less then half way to her goal! So I'm doing my best to help mom reach her goal to help 4p1h offset the costs of my medical. You all know how much I've been through over the years. Intense physical therapy for a over year which thank goodness for Dr. Kern at Pawsitive Steps Rehabilitation & Sports Medicine took me from paralyzed with little hope from any other vets to walking, jumping, running and Superheroing my way through life. Lots of other stuff too…bladder infections, inflammation, tons of skin allergies..it's expensive to be me! But 4 Paws 1 Heart have been there every step of the way. Annnd you know there's nothing mom wants more for her birthday then to have me back to my healthy, happy self. So please donate to her fundraiser if you are able. Mom really, really appreciates it and so do I.
Sweet dreams and nightynite Team, we love you to the moon!