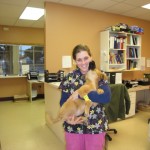 September, 2011 – Sammi, approximately 8 weeks old, was brought into the clinic dying. Her owner brought her in to be euthanized but the staff felt she could be saved. The owner surrendered her to 4 Paws 1 Heart. She was in and out of the hospital for several days with a high fever and infection requiring I.V.'s with antibiotics and fluids. After being treated for Parvo and fostered by Gina for about 5 weeks, it was discovered that she had an unusual fracture in her cervical vertebrae. It might have been an injury that she had come in with but because of the Parvo, She wasn't presenting pain from the fracture. A neck brace was put on her and she was on restricted activity for another 3 weeks.
October 24, 2011 – Sammi is doing much better but will need the brace for another 3 weeks. She will be going to the Metro Area Animal Adoption Agency who will put her up for adoption when she is ready.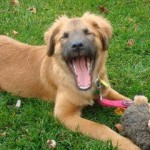 Christmas, 2011 – Sammi is now in the loving home of Dori.