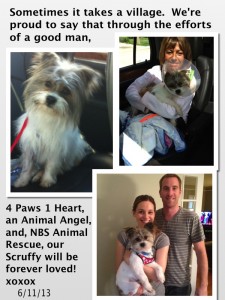 6/12/13 Thank you to the village of people who made the difference in our little guy's life. Here's a report from our friends at NBS Animal Rescue. ~ diana
CONGRATULATIONS TO SCRUFFY who found his fur-ever home with Sara and Jeff!!!
Mr. Scruffy came to NBS Animal Rescue from our fantastic friends at 4 Paws 1 Heart when he tragically was hit by a car and broke his femur bone and required extensive surgery to repair it. A kind gentlemen saw Scruffy get hit and sought out his owners to help him. Sadly his owners wanted nothing to do with Scruffy so thegentlemen helped make sure that Scruffy got to the Animal Urgent and Critical Care Center and helped make a donation for his care.
Gina and the volunteers at 4 Paws 1 Heart and the awesome veterinary staff at AUCCC worked hard to help Scruffy be comfortable as they sought out the best treatment options for him so he could regain the use of his limb. An animal angel generously donated financial support for Scruffy's surgical expenses at OVRS and we're happy to report that at his 2 month check in – Scruffy's leg has healed and the X-Ray's look wonderful!!!
Even better news!! SCRUFFY HAS BEEN ADOPTED by his foster parents Sara and Jeff!! This wonderful family fell in love with Scruffy from the get go, worked hard to help ensure that he stayed as calm as possible (not an easy task!), got his medications, and watched diligently for signs of pain. They enrolled him in puppy school and are excited to help him learn some new tricks and skills! Although Scruffy was a a bit scruffy when he came into rescue – he's anything but Scruffy now! This handsome hunk was groomed by our friends at Bingo Pet Salon and now has an adorable teddy bear look that everyone just fell in love with! Sara and Jeff have decided to call their adopted pooch Scruffy a little more distinguished of a name in Monty.
We can't begin to thank 4 Paws 1 Heart, the staff at AUCCC, the surgical staff at OVRS, and Scruffy's guardian angels who looked out for him and made his full recovery possible.
Sara and Jeff – we look forward to many happy updates, stories, pictures, and fun memories we hope you'll share with us of the adventures with Scruffy! Welcome to the NBS Family!!
Happy Tails Scruffy!