6/17/19 – All of our hearts are breaking for Team Chance and their loss of the beautiful and sweet Rosie Roo. It was our honor to take care of Rosie's medical needs over the past two years. And, we are so thankful for the love given to her by her foster mom, Dee, and her Aunt Shelly. Run free sweet Rosie. You were much loved. – Aunt Di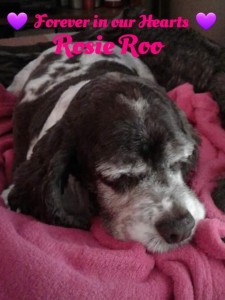 "Today was the day I've been dreading for soooo long, we lost our beloved Rosie Roo today. Her poor little body just couldnt do what she wanted it to anymore. Old age & dementia was stealing our babys body & mind. It's been the honor & joy of my life to be Roo's Mama, my heart is in a million pieces. Roo's memory will live on in the hearts of all who knew & loved her, she brought so much love with her when she came to us and I'm so thankful for every day we had with her 💜
We will be going dark on our page the rest of today, but starting tomorrow and for the next couple days we will be sharing Roo's story & pics and the importance of, and the love you recieve when you adopt a senior into your heart & home.
I want to thank 4 Paws 1 Heart for always standing by Roo's side throughout her many, many medical needs.
In Memory of Rosie Roo and the many seniors who will need medical help in the future I ask if you are able, that you please make a donation to 4 Paws 1 Heart in her Memory to keep her legacy going that every life deserves a Second Chance, even a sweet little old lady like Roo. Please make your donation to…
4paws1heart.org/donation/ or
4 Paws 1 Heart
P.O. Box 84
St. Clair Shores, Mi. 48080
Please put "In Memory of Roo" in the message box or on your check.
Thankyou all for loving our sweet angel as much as we did and allowing us to share her with you.
Love, a very broken hearted Mom 💔"