10/2/19 UPDATE: Jessie is a girl and is negative for FIV or FeLV. Unfortunately, Ferndale Cat Shelter cannot take her in so she is still in need of a rescue or a furever home. Please contact Denise at: deenajera@yahoo.com if you can help. She is too sweet and compliant to put back out in the wild. – diana
10/1/19 – It's October 1 and although today will be 88 degrees, the weather will be taking a deep dive tomorrow and we all know that freezing winter weather is just around the corner. And this little 3-4 month old, Jessie, could use your help to find his forever home before he has to be put back to where he was found.
Our many rescue friends are out there working hard to get abandoned/stray cats and kittens into the vet to have them spayed/neutered/vaccinated and then returned to where they were found. But, In many cases, there are kittens/cats found in communities who are not feral and who were obviously pets at one time who had either escaped their homes or were abandoned by their owners. Jessie appears to be one of them.
Jessie was found in a cat community cared for by a very kind man who is doing the best he can to shelter them from the upcoming frigid weather and to provide the community food. Chance's mom, Dee, and trapper extraordinaire, Debra, have been helping him to at least get everyone spayed/neutered with the financial assistance of 4p1h. This morning Jessie is going to All About Animals to be spayed/neutered/vaccinated and treated for any fleas/parasites BUT Jessie is so very tame and sweet, Dee and Debra are hoping that a rescue or loving human will step up to take Jessie in before Jessie has to be released back into the community. P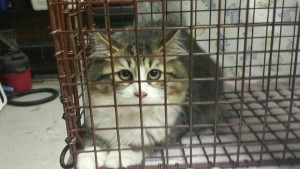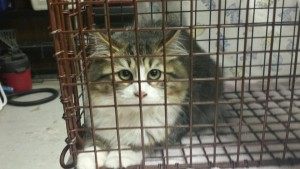 LEASE SHARE this and if you have any friends/family looking for a beauty, Jessie is the one. Thanks, Diana
4paws1heart.org/donations