January 11, 2013- Snicker's Story Makes it to Click on Detroit News
Click on Link >>: Snicker's Story on www.clickondetroit.com
---
Update January 10, 2013: Snickers is hanging in there.. He loves "love"! His left eye is in really bad shape in fact I can't see it behind all the inflammation and swelling. He is on several medications, breathing treatments, and he is being syringe fed. We have a rescue lined up to take him when he is ready. For now he's with me. Sadly, he might lose his left eye. ~ Gina
---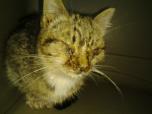 1/9/13  A woman posted on Craig's List the fact that her 9 year old son had found a kitten in the snow, wet, crying, and with eyes totally sealed shut from puss.  She was putting out a call for help.  A very good friend of 4 Paws 1 Heart who is actually the foster mom for Ruby, Joanne Hoope, saw the posting.  She left work in downtown Detroit and went to Hamtramck to rescue the kitten.  Many animal lovers saw the posting on Craig's List and many wanted to help but the word went out that a friend of 4 Paws 1 Heart had picked up the kitten and was on her way to the Emergency in Harper Woods.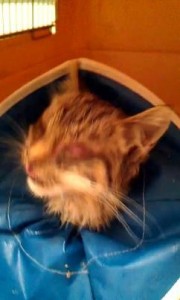 The kitten, now known as Snickers and about 9 weeks old, is in bad shape from an upper respiratory infection that developed into a severe infection. After being cared for by the veterinarians, Gina, our Vice President of Operations and Co-Founder (as well as veterinary technician) decided to bring the kitten home tonight because he needs supportive care around the clock.
Gina and 4 Paws 1 Heart is committed to saving this little one as, Joanne, a friend and animal lover responded to the emergency tonight and risked her life to go pick up this kitten in an unsafe area because of her love for animals. She never thinks twice about saving an animal. Joanne is the Hero here because this kitten would have surely died if she didn't bring him to us. Now we will provide the treatment needed and hopefully get this kitten through this terrible infection without losing his eye or having permanent damage to his vision.
He can't see or smell so Gina is feeding him by syringe. The cone is on because he was pawing at his face with his claws doing more damage to his skin and eyes. He will probably lose the fur all around his mouth because it is just infected and damaged everywhere on his poor little face.
Thank God he is with Gina, the woman who has raised dogs, cats, and squirrels (just to mention a few of the species) from as early as one day old. If anyone can help Snickers, it is Gina and the staff of the veterinary. They are the best! Time and time again, there have been second opinions and they always match what our doctors say. Thank You Gina, Joanne, and the skilled doctors who will be helping Snickers!!
We will keep everyone updated. ~ diana