12/26/20 – "My Christmas Eve rescue made a babystep of improvement tonight.
In between the constant nasal discharge she was able to smell food. I had to put the camera down to help and it was a mess, but this is good! It's been a struggle to syringe feed every few hours because she couldn't breathe well. She also finally pooped and urinated on her own this morning! The left eye is just an empty socket and the right eye is very cloudy. She will rarel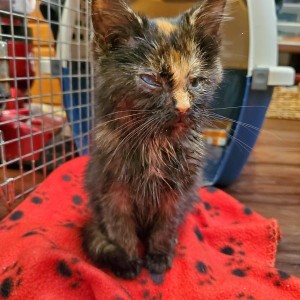 y open it but the inflammation is beginning to go down.. Pecan will need to see an eye specialist and she may be blind, but she can still live a quality life with the right person. If you would like to help towards her care please visit our website
www.4paws1heart.org.
 – Gina"