1/2/21 –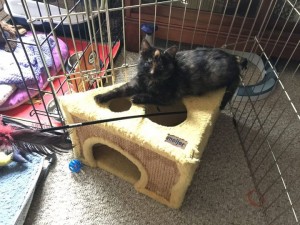 Pecan Update ♡
I'm so happy and relieved to say that this little girl is now being fostered in a home where she will no doubt thrive.
When I took Pecan it was only to get her through her most critical moments. Now she is with a good friend who is able to give her the attention, interaction, socialization, and love she so desperately deserves. She will see a specialist to determine her vision capabilities and she will still require surgery on the ruptured eye.
Pecan has a long road ahead with basic vaccines, spay surgery, and addressing her eye issues.
It's the special little Christmas miracles like Pecan that heal us without even knowing it…
Without your support Pecan wouldn't be here so THANK YOU, 4 paws 1 heart friends and supporters for allowing us to help make these miracles happen ♡
Gina