As always, 4 Paws 1 Heart is blessed to know such great rescue organizations and to have such generous supporters who give us the ability to help with medical treatment. Please pray for Connor who was rescued from horrific conditions and then found to have lepto (contracted from rat urine). ~ diana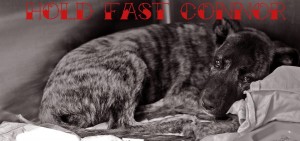 Here is the latest update from Connor's foster dad Joe. We would also like to send a HUGE thank you to all the generous people that read about Connor and has donated to his medical care, we are very grateful to have such awesome caring fans on our page supporting our efforts to help these animals. Once again, our wonderful friends 
4 Paws 1 Heart
 has graciously sent $300 to the vet to help pay for Connors medical bills. PLEASE take a moment to click on the link and like their page. They have helped HFE and MANY other rescues as well as abandoned animals with medical funds.Kind of a bittersweet update, as he has come so far, yet he still has so far to go. We actually got to hang out for about 3 hours, as I think there was a shift change and they forgot about us somehow. I was very excited to hear he was out of isolation and could visit me in the normal exam room. However, they are still waiting on his lepto results.Anyway, he walked in under his own power and he was very excited to see me. I couldn't believe how good he looked compared to last time. However, that must have been the extent of his energy, because he soon crashed into my lap. I told him how proud I was of him, and how good he is doing. And of course about all the wonderful people thinking of him and praying for him. Every so often, he would get up and take a few shaky steps, looking back at me as if to say "Look how strong I am now, Dad."I got to speak with the doctor as well. He said that for only being there a few days, he has really improved. His kidney functions are still higher than normal, but they are steadily dropping. He has been responding to treatment for lepto since Day 1. He was quick to remind me though that things could still go either way. His kidneys may be fatally damaged; it is still too early to tell. Connor has lost a lot of weight and his steps are unsure. He sways a little when he stands. For all the progress he's made, its clear that he still has a long road ahead of him. He didn't end up eating the food I brought him, but the doctor said they'll mark it and save it for him in the fridge. I also brought him a new tshirt.
We spent the rest of the time curled up on the floor together. He eventually fell asleep in my arms and drifted off into dreams (doing the "chasing rabbits" bit). I could only imagine he was dreaming of being back home with the pack playing in the yard. I
took some new photos, he's more alert and hopeful in these pictures, but his struggle and weight loss is apparent as well. I'll get the photos up as soon as I can, but that probably won't be til tomorrow evening.
Thanks again for everyone's thoughts and prayers. Connor still needs them more than ever.