June 30, 2011 – Her owner passed away three weeks ago. 4 Paws 1 Heart was contacted yesterday by a worker from the building next door to where she was abandoned.The worker is feeding her daily and he said that kids are fully aware that they left the dog there to die. Until the worker realized the dog was in the dog pen she was starving and trying to eat the wood on the entrance way to her dog house.
4P1H went out to see the dog, check on her condition, temperament and take photos. The dog is very sweet and if her owner knew that his kids left his dog there to die he probably would be rolling over in his grave right now. We are willing to help pay for medical care, however, she needs to be taken out of that dog pen and given the love and attention every "LIFE" DESERVES!!!
Update: July 1, 2011 Good News!! A lady in Oxford is willing to help foster or possibly keep if the dog is okay. 4p1h will be going to go get her, and have her checked out medically first. Thank you all for your support!!! This worked out faster than I thought it would. I'll keep you all posted….
Update: July 2, 2011 –


She has been taken out of her horrible condition as of the morning. Please see pictures posted!
Update July 3, 2011 – She is at the vet clinic with me now. She got a much needed bath along with some other tests, and she checks out healthy:) all she needs is lots of love… we estimate her to b about 8 yrs old. She will b picked up by her foster mom tonight or tomorrow.
Update: July 4, 2011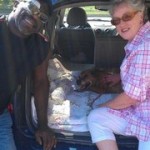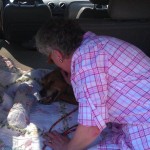 – Her owner passed away a month ago, and the kid's left his dog in an outdoor pen to die. She was rescued, and she went to her new home today with a family who will give her the unconditional love she deserves.
Update February 23, 2012 –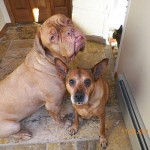 Our sweet, sweet Ruby (a.k.a. Ruby Slippers) is much more relaxed and at ease now that I can almost forget how much worse it was in July when she came to live with us. Her ears perk up much more, she shrinks down less, she wags her tail the entire time she drinks water, and she only wants her warm, clean bed next to Henry, to eat, drink, go outside, and nap. At night, we warm her blanket and tuck her in before we all head to bed. The whole tucking in process she's licking us in every available spot – fingers, face, head…whatever's there to kiss. Thank you, she's telling us, for giving me a nice home and love. I swear this baby was never loved or petted or talked to nicely. We are blessed.