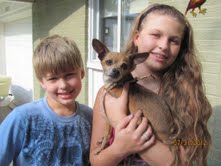 One of our long-time friends contacted us recently about a Chihuahua whose owner was going to just let him loose!! Here's some of her message AND YES, you can believe that 4 Paws 1 Heart will help this little guy be in a loving home by paying to get him neutered and vaccinated. That's what we do – making sure there's one less animal walking the streets and even less animals getting killed in shelters. We wish this little guy a long and happy life with Minnie's family. ~ diana
Hi Diana,
"I can't believe they were just turning him loose. It just happened that I was showing a condo (it looks like an old apartment complex they turned into condos) and she was outside with the dog. I spoke to the dog and said "you need to come home with me" and she said, "take him, we are turning him loose anyway" – My jaw dropped and I said WHAT?? And she said, somebody will find him………..aaaaaaggggggggghhhhhhhhhhhhhh – I told her I would be back in an hour, so I took my daughter down with me since the "baby" would be staying with her and we picked him up. He snarled and growled and showed his teeth to the owner but he has been at my daughter's with her kids overnight and hasn't snarled or growled once!!! He also needs all his shots. He is so precious. He is just skin and bones, I can't believe how skinny he is!!! We went directly to the pet store and bought him a harness and a leash and some tiny bites food and some treats.
Anyway, my daughter's husband has been laid off from Ford for some time now and I know they can't afford a large vet bill, so if they could find a way to get him neutered and get his shots, I believe they may keep him. Any help you could offer would be wonderful. They would be willing to pay, they aren't looking for "free" but I know they can't afford a large vet bill. Here's a photo of her children who have already fallen in love".