Update July 23, 2012 from NBS Animal Rescue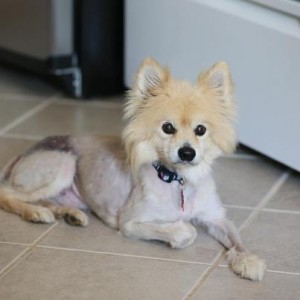 Sweetpea McGee is doing fantastic!! He's settling into the routine quite nicely, has learned if he nudges his foster mom's arm when she stops petting him that she magically starts petting again, is gaining weight, and his sores are almost completely healed.
He will be having surgery on Wednesday to have two masses removed (one from his belly and one from his neck) as well as having a dental treatment. We're so very thankful to all of the wonderful people at 4 Paws 1 Heart who are generously covering his medical treatment. ♥

---
July 11, 20012 AN UPDATE ON SWEETPEA; OF COURSE, 4P1H WILL COVER ANY MEDICAL TREATMENT SWEETPEA NEEDS TO MAKE HIM A HEALTHY BOY —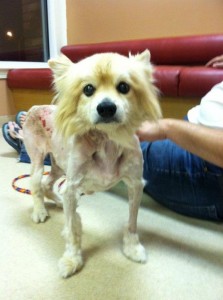 "Hi Diana! THANK-YOU so very much for letting us go and visit with Sweetpea tonight! He's a precious little fella who we all quickly fell in love with. The staff there were fantastic – they were very busy and allowed us to sit in the lobby for over an hour with Sweetpea as we just gently petted him, fed him some tasty treats, and started to get to know each other. The red areas of the skin shown in the first pictures you posted originally have started to heal nicely and are now flaking off into little scabs. The larger wounds are still pretty nasty looking but the vet said it was improving daily. He shook like a leaf for the first 30 minutes, but then he started to get comfy and we saw the slightest little wag of his raw little tail. Once I stopped petting him for about 3 seconds he even nudged my hand with his nose asking for more! Aaron got kisses from him and Jaime got lots of good ear scratches and petting in too. I can't wait to get him home to start showing him how wonderful life can be! He does have two issues that I wanted to discuss with you, we were able to talk with the vet tech and dr. on staff tonight about his teeth and two rather large lumps he has. His teeth are badly in need of a dental treatment with sadly, quite a few extractions probably necessary. He has a large lump on his belly/chest and one just under his chin/neck. The vet on staff recommended a dental treatment and a needle aspiration of the larger lump to assess what we were dealing with. She said she would talk with Gina when she got back on Sunday about his progress thus far." Rebecca, NBS Animal Rescue
---
July 6, 2012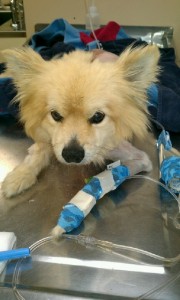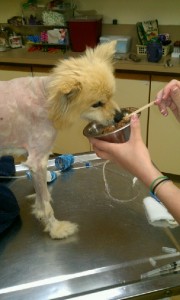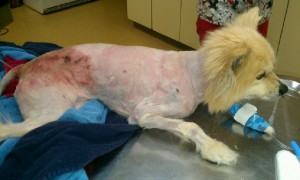 7/6/12 The Eastpointe Animal Control Officer (ACO) was contacted by a groomer in Eastpointe reporting a case of serious neglect/abuse. He had a Pomeranian mix, male, neutered, 10 lbs. and about 7 years old. The dog was matted with feces with flies stuck to it and totally consumed with hundreds of maggots who had actually at holes in his poor little body; his nails were 1 and 1/2 inches overgrown. The ACO immediately took the animal to the East Detroit Animal Hospital who kindly stepped up to the plate without an advanced payment. There the maggots were removed and the dog was shaved but the dog still required additional veterinary care. The ACO contacted the owner to advise of the dire condition of the dog and to tell her that the dog needed additional medical treatment. She claimed that she had been in the hospital with a heart condition and her dog, Sweetpea, had been in the care of a friend. She also said that she didn't have the money to take him to a vet or to pay the vet the ACO had taken him to for initial treatment.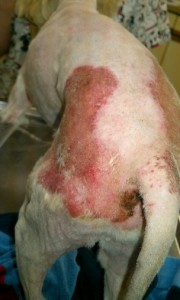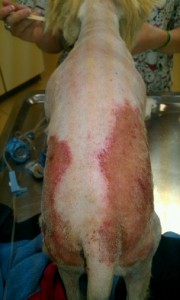 The ACO contacted Gina and asked if 4P1H could help. Gina told him that if the woman could produce proof that she was, in fact, in the hospital and proof of who had been caring for the dog, that 4P1H would help with the medical bills (although that is not typically what 4P1H does). The woman could not provide proof and obviously had been lying; it further appeared that the dog had just been neglected and kept in a crate. The woman wanted the dog back but the ACO miraculously talked the woman into surrendering the dog and brought the dog, after hours on his own time, to the Animal Urgent and Critical Care Center. At the Center, Sweetpea was further treated for his infestations, stabilized, and put on IV fluids. He is totally traumatized by what he has been forced to go through. Charges cannot be pressed in Eastpointe because it turns out that the woman is a Detroit resident. If the City of Eastpointe does not pay the vet bill at the East Detroit Animal Hospital, 4P1H will pay that bill as well as the costs for the medical treatment and Sweetpea's stay at the Critical Care Center. He should be ready for adoption in about a week.
If one of our rescue friends could take on the adoption of Sweetpea, it would be greatly appreciated. For now, if anyone is seriously interested in adopting him, please contact me at diana.4paws1heart@gmail.com.