Many times a day our local rescue groups receive dozens of calls from people needing help in placing the abandoned and abused. Even though we are not a rescue we also receive our share of requests. We also receive requests from individual, good Samaritans who want to save but can't afford the medical bills. When we can, we try to help. But sometimes it takes some serious coordinating and assistance from our rescue partners. This is such a case.
Here is Sheldon's story as brought to our attention from Noel, a 4P1H friend: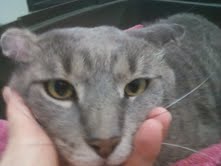 "There is one sweet guy that is unaltered and is sick with an infection. His ear is about the size of a golf ball. I feed hm wet and dry but he is still a rack of bones. He is in desperate need of medical care. I would have taken him myself but I just don't have the money. If there is any way you would be able to help this poor kitty I would be so grateful.
"This cat has a long story. I was walking a friend's dog 3 yrs. ago when I saw this darling kitten. There was a man near by and I said what a cute kitty. The guy said if you want him take him, I thought he was kidding. However, this is the poor cat I've been caring for. He sleeps on my porch in the bad weather and sits on my door mat and waits for me to look out the window in the evening when it's time for dinner. He is a tame cat, not a feral. He has a beautiful face and a sweet personality. If I could afford to keep him I would but I already have 1 foster failure, 1 rescue, and have taken in two cats off the street. I do the best I can to help but this one I'm just not able to save. But he is worth saving and deserves a better life. Thank you for trying to help, I will appreciate anything your able to do for this sweet boy. Thank you, Noel."
The rest of the story: Noel agreed to take in this sweetheart as a foster while we would try to find a rescue who could take in Sheldon when they had room. Once again, Tigerlily came through for all of us and will take Sheldon into their rescue as soon as they have a foster available. In the mean time, 4P!H paid to have Sheldon's ear examined and have Sheldon tested and vaccinated. We will also pay for his ear surgery and neuter which will be scheduled in the near future. We made this commitment a few weeks before Keller came into our lives and funds were put aside to take care of it. We are so happy that we could take one more baby off of the streets and keep others from being born. A huge thank you to Noel and Tigerlily Cat Rescue.