3/22/18 – Prayers and Positive Thoughts needed for this very sweet cat who was found on the street — emaciated, a severe upper respiratory infection, and a critical wound on his leg. The rescuer from Their Last Resort Animal Rescue, advised that people were just walking by this little guy; no one was willing to help. Parker has been in the hospital since Sunday, March 18. Because of his poor medical condition, the hospital staff has only been able to keep the wound clean, provide antibiotics, and clean him multiple times a day because of the significant discharge resulting from the upper respiratory infection. Our latest report on his condition is: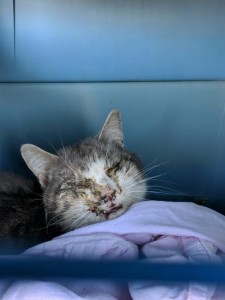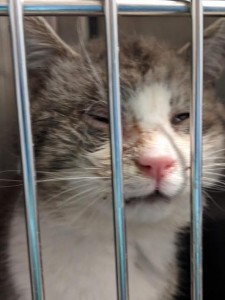 "Parker is still not feeling well but is wanting love and affection today.
❤️ He is on antibiotics for the upper respiratory infection, eye drops and another antibiotic for the horrible infection on/in his leg. His temperature was a little high today more than likely from the infected leg.
So after speaking with the wound care specialist we found out that Parker is going to lose his leg. He will need an amputation. That wound is not only black and dying but there isn't enough skin to close the wound. He will have to wait until he is stable enough for the surgery.
🙏
He is eating and drinking well.
He really was in good spirits today so we are hopeful about a full recovery and ask for prayers for Parker. – Larry"
I am thankful that we could play a role in Parker's recovery and I'm thankful for the attention being given by the Rescue to Parker and he struggles to survive. ~ diana