1/22/19 – Prayers for Rick.
"Hi Team, well here's Rick…the poor kid that showed up at the auto yard. Mom met Mike, the kind human who rescued him and contacted mom & 4 Paws for help, andRick at the vets today. The news is not what we had hoped for. Rick is feLv positive. He's 7-8 yrs old, possibly older. He has a lot of dental issues and we're not sure all what else. Because of his feLv status we have to be very careful as it's much easier passed to other cats then fiv. We do know he's not feral, but very nervous & scared. He was loaded with fleas and received flea treatment & deworming today. He also got blood work & that will determine how far advanced his felv is. We should get the results tomorrow. There a lot of complications that can arise from his illness. His immune system is low, he's more likely to develop lymphoma. Just a whole host of things can effect his quality of life. Right now hes with a wonderful foster, safe & warm in quarantine till we know more. We're hoping he will start to trust so he can at least be bathed and his beautiful white fur restored, but for tonight he's resting. Right now Rick's health & quality of life is what's important and that he knows he is safe & loved. Thank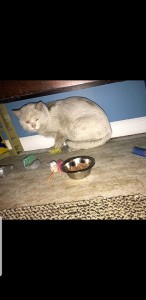 you 4 Paws 1 Heart and everyone involved in helping Rick especially his rescuer Mike & his foster mom Courtney. Please keep this sweet boy in your prayers & we'll keep you posted.
Sweet dreams Team Chance, we love you ❤ – Denise"