4/8/20 – I shared Raven's story on April 5; two days later she had her babies. After eluding a trap for two years, she must have known she was close to giving birth because she finally allowed herself to be trapped. Mama and the kitties will be in the Kitty Room at Pet Supplies Plus (Harper/13 Mile, SCS) when it's appropriate. – diana
4paws1heart.org/donations/
P.S. Remember what I said about 'Kitten Season'? In just a few days we've committed to helping three mom and their babies.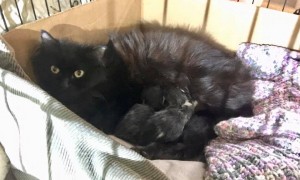 Per Dee G:  "Raven is taking a break from posting….pretty obvious why….but what isn't obvious….how many did she have? (If you were already told….ssshhhh please) Raven Beauty is an wonderful mommy and the babies (clue more then 1!) are fat and squeaky. Born 4/5. 4 Paws 1 Heart"