3/12/17 – More animals who will be saved from the dangers of the streets because of our wonderful friends and 4 Paws 1 Heart! ~ diana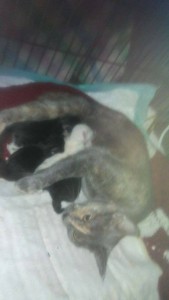 "Thank you so much to 4 paws 1 heart, Jo Sweeney Addington, Debbie Nelson, Kimba Ladd, James Mazza, Kim Miller, Caitlin & everyone else who played a part in saving these beautiful, sweet, newborn kittens!!!
Caitlin was walking in the park with a friend when they heard little cries in the cold… They followed the noise & found 4 abandoned newborn kittens… All with umbilical cords still attached & one still partly in the sac! She immediately took a video (in comments) & sent it to Kim, who put out the call for help. After waiting & watching in the distance for 45 minutes it was determined that mom was not coming back for them… We were fortunate enough to be able to get the kittens to a lactating mom whose own kittens had just finished weaning thanks to James & Kimba!! With Jo & Debbie's help we took the right steps & mom immediately let the babies begin to latch on & feed!!!!! 4 paws 1 heart immediately stepped up to offer vetting for the kittens when they are old enough
<3
It truly takes a village & we couldn't have saved these sweet babies if it weren't for everyone involved… So we have to put out a HUGE THANK YOU to everyone who played such an important role!!!
They will be available for adoption in about 12 weeks
<3 & we won't forget the mom, either!!! We are going back to trap her to ensure she gets fixed & that this won't happen with her again!!! Please everyone, spay & neuter your animals
🙂 it prevents situations like this!! Also please step up & help spay & neuter stray cats in your neighborhood & area! If everyone helped we could make a big difference this year!! Ask me how & I would be more than happy to help!!!
Again, thank you, thank you, thank you!!!! Our wonderful village was able to save these babies & they will be loved & well cared for, for the rest of their lives now!
❤
❤ ~ Rachel"
❤