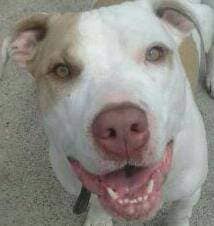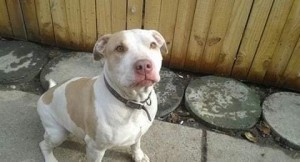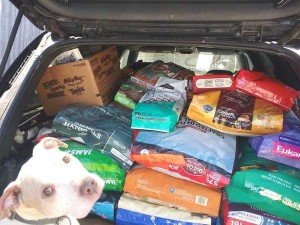 Here is Laura's memorial to the boy she took such good care of and loved. – diana
For many years, we had a dog named Charlie who we called Chuckie sometimes. I feel that now his whole story should be told. He came to rescue after being used for bait (I'll spare you the photos). Not to us but another rescue. He received blood transfusions from another rescue dog who was his angel. He got adopted to a man and lived with him and another male dog. All his shots were kept up to date. One day, the landlord entered Charlie's home unannounced and illegally. Charlie protected his home, as many dogs would. Animal control was called. The landlord should have been charged with illegal entry and trespassing but he wasn't. Charlie was not given the option to do the bite hold at home (which is the norm) but instead he was dragged out on a control stick and taken to the county shelter. There he was kenneled between two large intact males. I know that because I saw them. I found out that he had no out time and I believe he was in his kennel while they cleaned it because they had labeled him aggressive because he protected his home and his owner. When the bite hold was up, there was a fee to get him out, and by then his owner was living in his van with his other dog due to the landlord illegally evicting him. Since he couldn't take care of Charlie anymore, the return contract would hold that rescue responsible to go get him, and usually shelters work with rescue on fees which would have been great…..except…..they left him there. And there he sat. For almost a month. Those bitches just left him there. Of course an evaluation in there would do nothing since the people who work there all look the same as the idiot that drug him out of his home.
Some friends who supported us back then had paid for his vet bills the first time he was rescued and asked us to give him a chance and we did. Sadly the system caused him more issues than being a bait dog did. He was online as experienced handler only, and privacy fence required but he never trusted men after I went and got him out of that kennel.
I have some bad news. Our Charlie started limping a few months ago. Because our vet had closed, we took him to a new place (still looking for a decent vet) and we got an exray and while we were there he got pretty aggressive. Luckily I was holding him and he was muzzled. They said he had bone cancer in his back leg. I knew from experience that we could amputate but the cancer would return in a few months to a year so I decided to show him a good time. A few days ago, the heavy pain meds I was giving him pretty much stopped helping and I made some calls but this drive through vet service wasn't right for him or me. I was able to get a very expensive house call vet who came pretty far to put him down in the backyard. I'd tranquilized him before he got there and he's gone now. It makes me sad what happened to him from animal control taking him out of his home, to the unnecessary situation at the shelter, to the other rescue leaving him there, etc. Because of all of that, I buried him in the backyard where he always knew he was safe. He was the fiercest protector and although he had issues (that he came by honestly) he was a good boy and a lot of fun. I suppose since all our remaining dogs are older and have issues, this will continue but that is one reason I wanted to stop intake a few years back. We're really going to miss him.