Daily Archives:
June 2, 2014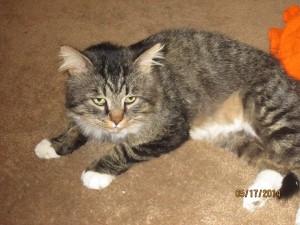 Honestly!!! 4 Paws 1 Heart loves dogs — remember Hercules, Dolly, Scruffy, Gilligan — just to name a few.  But, we have been inundated with sick kitties and those who have been lucky enough to find help from 4P1H (and our loyal supporters) now need an opportunity for a loving family.  I know you will remember Smokey.  Now that he's recovered with our friend, Francine, he is ready for his forever home.  Please share and let's give him his wish.  ~ diana
"A big thank you to you, Gina and 4 paws 1 heart for taking care of Smokey. Gina would not recognize him now. He is a big, good, playful boy! and he loves to play and loves attention! No other cat plays "string" like Smokey. He will come with his own cat carrier, litter box, toys, brush and food dishes. Please contact me if you want to make Smokey a permanent member of your home. Kind regards, Francine 248-417-6186″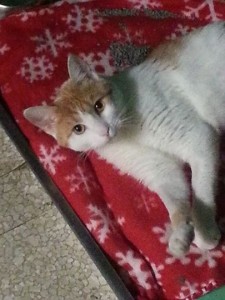 Ryker update..  Ryker is happy and loving just waiting for that purrrrrfect home.  We had to amputate one of his rear legs after he was attacked by two large dogs but that hasn't changed his loving personality.  Ryker is now terrified of dog's but he'd be happy in a home where he can be spoiled!!