Chelsea:  It's truly a wonderful thing when animal advocacy groups can keep their focus on the animal and work together towards one goal. I truly admire the rescue groups who we have been fortunate enough to help. May God always watch over them. ~ diana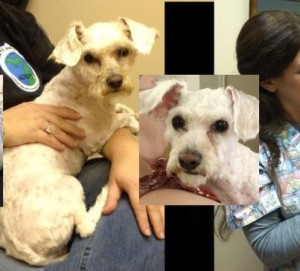 "Please help us welcome Chelsea to NBS Animal Rescue! This poor little girl was found by a wonderful supporter who contacted us to see if we could help give this little lady some much needed TLC. 
Chelsea was so badly matted and dirty that she couldn't move freely, was barely able to see around the matted fur on her nose and face, had horrendously painful mats in her armpit area, her tail was completely matted to the bone with lots of burs, sticks and dirt stuck to her fur. Her ears were 2-3 times as thick as they should be because of the matting on both the outside and the inside of her ear canal, and the poor darling had matted fur that made a sort of "boot" around all of her paws that left her paw pads completely covered and long nails poking through starting to curl under. 
She was kind enough to let our volunteers try to remove some of the burs, but it was quickly evident that in order to help this little one feel better she was going to need to be completely shaved under anesthesia to help her avoid the pain of removing the mats. Our wonderful friends at 4 Paws 1 Heart very kindly agreed to help us get Chelsea the grooming care she needed so that we could further assess her medical needs. The amazingly awesome Gina and staff at the Animal Urgent and Critical Care Center anesthetized Chelsea and worked diligently for over an hour to carefully remove the severely matted fur that was causing Chelsea so much pain. After waking up from her anesthesia Chelsea was a MUCH happier girl – she got down on the vet's office floor, ran around the room, hopped up on our volunteers legs to say hello, shook off the remaining little fluffy hairs, and wagged her tail like all was well with the world again! 
Chelsea is HW negative, received her DHPP and Rabies vaccine, and visited the wonderful folks at Bingo Pet Salon today for a bath and nail trim. Because Chelsea's matting was so incredibly severe and painful, she has a bit of a patchy coat right now as some areas of her body had to be shaved down to the skin just to remove the mats as they were literally pulling her skin taught. Once Chelsea's bruises, minor scabs, and skin irritation begins to heal and her her starts to re-grow our friends at Bingo will giver her a full body groom to even her out and make her even more beautiful than she already is.
Chelsea slept well after her big day, and is happily romping with her foster fur friends, enjoying playing with new toys, and doing well with figuring out this potty outside thing. =)
Chelsea will be available for adoption after her vetting is completed next week. She's a sweet little lady who sends her love out to Jess, the wonderful woman who found her and sought help for her, Gina and the staff at Animal Urgent and Critical Care Center for making her so much more comfortable, 4 Paws 1 Heart for generously covering the anesthesia fee and vet visit to help this little one feel no more pain, and Bingo Pet Salon for their patience and gentle touch. ~ Rebecca"