Please help us welcome Madeline, Makayla, and Camryn to NBS Animal Rescue!!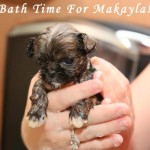 These incredibly adorable 5 week old Shih Tzu/Poodle/Pekingese pups came to NBSAR from our fantastic friends at 4 Paws 1 Heart when their mother tragically died during puppy birth and their four siblings were still born. 4 Paws 1 Heart's tremendously amazing, incredibly awesome Operations Manager Gina cared for these bab
ies around the clock tube feeding them and then weaning them onto a bottle during the first few weeks of their life.
Madeline, Makayla, and Camryn are settling in well to our wonderful puppy foster home and are doing great with their antibiotics for a mild upper respiratory tract infection they developed a while back as very young pups. Each one of them is at a different spot developmentally and they each have unique personalities!
Madeline is the smallest of the bunch, weighing just under a pound. This sweet little girl just wants love – lots and lots of love! She's the mild mannered one of the bunch, loves to be snuggled in your hands, and is content falling asleep in your lap! She is also the most under-developed of the bunch having no teeth yet (they are JUST starting to push through the gums), still teetering around as she tries to run, and still unable to effectively lap enough formula from a dish. She very much enjoys her bottle feedings 6 times a day as it incorporates snuggling in warm hands! Madeline has black and brown fur with white tips on her hind legs.
Makayla is the independent, all American girl puppy! She loves to snuggle in your hands – on her terms – and is then quickly off romping around with her brother! She has teeth that are just barely poking through her gums, is running around with her brother, albeit still a bit unsteady and wobbly, and is able to lap up formula from a dish, but still isn't able to get enough puppy mush on her own. She too is enjoying bottle feedings 4 times a day as we encourage her to lap up puppy formula on her own. She's a spunky little gal who loves to explore! Makayla has black and brown fur with white tips on her front legs.
Camryn is the lone male out of the bunch and he is by far the most advanced developmentally. Interestingly enough, Camryn was born the smallest of the three pups and Gina wasn't sure he would pull through the first few weeks of his life. This chunky little fella has several chompers, has no problem eating puppy mush or lapping up formula from a dish (although he enjoys a final drink of formula after his sisters get done with their bottles), and is off romping, playing, exploring, and is starting to show interest in playing with toys. He also loves to snuggle! This silly fella sleeps on his back and as he dreams his little paws "run" until he kicks one of his sisters and they get upset and then he rolls back over! Camryn has black fur with a patch of white on his chin, front feet, and a tiny spot on his back!
Although these sweethearts will not be available for adoption until they are 9 weeks old and have received two doses of their DHPP vaccine, we are accepting applications for these sweethearts now. If you are interested in adopting Madeline, Makayla, or Camryn, please visit our website at www.nbsanimalrescue.com to fill out an online adoption application.
We would like to send out a huge PAWS UP to our friends at 4 Paws 1 Heart for giving these sweethearts the best possible chance at a healthy and happy life and for trusting us to continue the high quality of care they received early on in their lives and find amazing fur-ever homes for each of these sweethearts. If you would like to make a donation on Madeline, Makayla, or Camryn's behalf, please visit the 4 Paws 1 Heart website at https://4paws1heart.org/donations/
Stay tuned for more pictures of these sweet little pups! This picture was taken shortly after their bath, lunch, and puppy wipe down of their faces after enjoying a feast of puppy mush and formula!