Update Isabelle (formerly known as Bernice); from our very good friends at NBS Animal Rescue. ~ diana
"Hi there!! My name is Isabelle, but my friends call me Izzy. I'm a 3-4 year old female Pekingese but I really look like a pug/pomeranian  mix, or so everyone keeps telling me!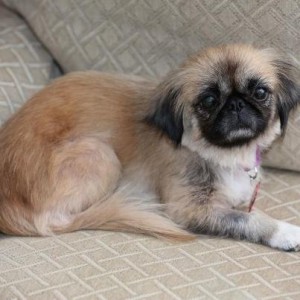 I came from a pretty scary place where my previous owners fed me ribs and it got lodged in my throat sideways and I was unable to eat, drink, or to go to the bathroom for three whole days before they sought out medical attention. I was in really rough shape: I was covered in fleas, had really bad skin, balding hair along my back, over grown toenails, matted fur, and of course – a bone stuck in my throat! After my owners signed me over to the fantastic 4 Paws 1 Heart Organization they contacted my foster parents at NBS Animal Rescue and here I am! I was on IV fluids, pain medication, and had to get a lot of TLC before I pulled through and am the happy little girl that I am today. I visited the veterinarian and got spayed, received my vaccines, got a bath, had my fleas removed, visited a great groomer named Liz at Bingo Pet Salon for a full groom and voila! Here I am – a happy go lucky little 8 lb female who is loving life at her foster family!
I'm a sweet little girl who loves to go for walks and car rides, I'm potty trained, good with other dogs, I'm pretty good at meeting strangers – especially if they have a tasty treat! Kids are OK with me as long as they are 7+ because I"m so small they might accidentally hurt me while we're playing. I haven't met a cat yet, but my foster mom says that she thinks I'd be just fine with kitty cats as long as someone introduced me to them properly.
If you think that I might be the perfect addition to your family, please contact the awesome volunteers at N.B.S. Animal Rescue at [email protected] for any additional information or answers to any questions you might have. You can fill out a simple online adoption application at www.nbsanimalrescue.com and we will start processing your application right away! We do require that persons interested in meeting me apply online and be approved as an adopter first so please visit our website and submit your application today!"