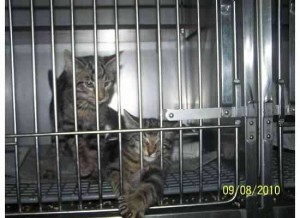 ACTION NEEDED TO BAN GAS CHAMBERS IN MICHIGAN. SB 354 PASSED THE SENATE! ON TO THE HOUSE OF REPRESENTATIVES! This is a photo of two (of 4 kittens) who were rescued by a friend of 4 Paws 1 Heart three years ago. They were being euthanized in one of the State's shelters which still use gas chambers. Can you imagine the horror of being gassed and remaining alive while all of the others around you are experiencing a slow and painful death. PLEASE MAKE A DIFFERENCE TOMORROW AND MAKE A CALL. ~ DianaA quick phone call or email makes a HUGE DIFFERENCE for Michigan Shelter Animals!
Dear Friends of Animals,
SB 354, "Grant's Bill" to end the use of gas chambers in Michigan animal shelters, passed out of the full Senate overwhelmingly with a 37-0 vote! IMPRESSIVE! Now SB 354 goes to the House of Representatives. SB 354 was assigned to the Local Government committee. Your polite calls are now needed to Representative Amanda Price (chair of Local Gov. Committee). Ask Representative Price to please hold a hearing for SB 354 to ban gas chambers in Michigan animal shelters.
Representative Amanda Price
N-1193 House Office Building
P.O. Box 30014
Lansing, MI 48909
Phone: (517) 373-0838
Fax: (517) 373-9830
Email: [email protected]
Next, will you also contact your Representative and ask them to support SB 354? You can find your Representative and contact information athttp://house.michigan.gov/mhrpublic/
All you need to say is, "I am a constituent, and would like to ask Representative ______ to please vote yes on SB 354 to end the gassing of Michigan's shelter pets."
For more info and talking points please visit:http://michigandersforshelterpets.org/grants-bill/
Thank you for your support & for helping to end the use of gas chambers in Michigan!
Michiganders for Shelter Pets