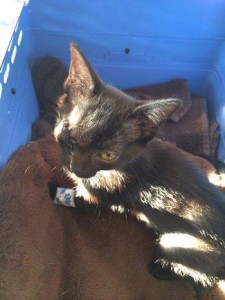 We very much appreciate the help of Paws For The Cause Feral Cat Rescue. Not only have they've been instrumental in assisting me in St. Clair Shores with the TNR issue and needs, they continue to rescue domesticated cats. We are happy that because of our friends who continue to attend our fundraisers, we are able to 'share the wealth' with our rescue friends. Here are a few of their stories. ~ diana
"Grace had her eye removed yesterday due to a virus that destroyed her cornea.
Grace's brother Will is scheduled to be neutered and examined under anesthesia next week for a "head tilt"- we are hoping it's simply a congenital defect.
We are also taking our diabetic love bug Rusty into the vet weekly for "curve tests" as his diabetes is still completely uncontrolled and it has also been discovered that he has an infection- most likely due to his prior inability to fully empty his bladder which resulted in bacteria forming in his bladder."