Our little Makayla, growing up. ~ diana
♥ More Happy Tail Updates!! ♥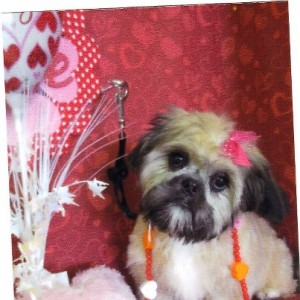 We're so excited to share this wonderful update from Makayla's adopters! Makayla was one of 3 pups that our fantastic friends at 
4 Paws 1 Heart
 saved and Gina bottle fed from tiny little four day old pups."Hello friends:Makayla has settled into life here and into our hearts. She was seen in January by her vet and received all the updates for shots and given a healthy report. She has been to the groomers twice and will probably have a "standing appointment" once a month. She likes going to the groomers since she can play with the other dogs and is very social. We think that the poodle in her is really showing up in her fur, tho of course her face is still the Shih Tzu!
She is a good car traveler and has even been to Sugar Island (Sault Ste Marie) Michigan.
With Dennis retiring in less than a week, we will be doing some traveling and she will fit right in. We can't wait til spring to get her out full time and do some serious exploring.
It's hard to imagine life without her….she is really a "mommy's girl".
Thank-you!
Carol & Dennis"
Look how beautiful this little girl is – she grew up to be such a stunning lady! Stay tuned for updated pictures of her siblings later today!