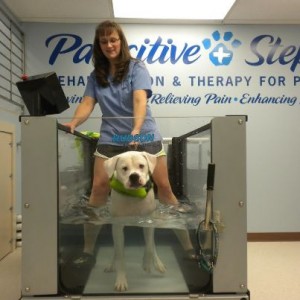 Hi everyone!
I have been very busy over the last couple weeks. I got a job and I get paid in treats! I get to go to work at Pawsitive Steps Rehabilitation & Therapy for Pets everyday now that the office is open! My folks have been busy getting the office ready and I have been helping out. I get to test the equipment and play in the exercise room when it is not in use. There is an underwater treadmill, which is lots of fun. I like to splash with my feet and chew at the water. The land treadmill is neat, but not as fun as the one with water. When we get company at the office, I get to greet them. I am very tired at night because I don't get my afternoon nap lately. I still get to visit with folks at Partridge Creek on the weekends, but we go when the work is done. If you are in the area, drop by the office to say hi! Or check out the website
http://www.pawsitivestepsrehab.com/
 or our Facebook page 
https://www.facebook.com/PawsitiveStepsRehab
 – I get to make posts there sometimes too!
Have a pawsitive day!
Hercules (& Dr. K)
Dr. Tari Kern