3/29/13 Our friend, Dinah's eulogy to a very special girl: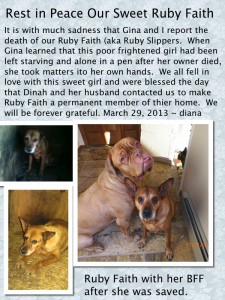 Gina and Diana – It is with unfathomable sorrow that I tell you of Ruby's passing. We adopted her, as you know, on July 4, 2011, and have enjoyed every moment of our decision to bless this sweet old girl for almost 2 years. Her mammary glands had multiple tumors, if you recall, and the one closest to her tail got enormous and heavy and hot, and much worse of late. The harder one near her ribs was growing. She had just developed another, different kind of tumor near her butt. Not good. Still, the vet said she was acting great, no signs of discomfort or pain, so just keep her comfy and let her be home with us, Henry, Theo and Vinnie, and now my sister's little Sadie. They all got along famously. They kept Ruby spry, as she took several shorter walks each day with her posse here, and loved her warm, clean bed and warmed blankets for naps. Once Ruby started adjusting her body around the large tumor, she seemed less able to accommodate herself with comfort, and I knew I must do the unthinkable.Thank God, we say, that loving them and them loving us overshadows the inevitable ending task. We had Ruby's wonderful, crotchety old farm vet come to the house and put her down with us here. She was wrapped in her fresh, warm blankets with her stuffed "babies" and went peacefully and quickly, all the while hearing me singing her little song she liked, called, "Ruby is My Baby, and That's the Way It Is." She never had to get in the car, terrified, and pee and throw up until we reached our destination. She was home, with us, where she belonged. Just know that, although it took over a month for her to lift her head or her ears without fear, she did feel what it was like to be loved, tended to, bathed and blown dry (she adored being blown dry), and cuddled up with the other members of our furry crew, and us. Ruby loved the fresh air, her walks with Henry and Sadie, and her many massages. She gave us pure joy and appreciation of the simplest things we take for granted, yet which bring us the most human peace. And that, of course, is love and attention without one thought of fear.There is an Indian legend which says that we will be greeted at Heaven's gate by all the animals we've come in contact with on this earth, in this life, and, based on how we've tended them it will be determined whether or not we can enter.
We rescued Ruby…and she rescued us right back. Rest in peace, little girl.
Ruby Faith…until we meet again.
Dinah