Zeke is a golden chow chow mix, about 10 years old from Flint.  His owner gave him up and, fortunately, he was rescued by PAWS.  I saw that the group needed help with paying for a check-up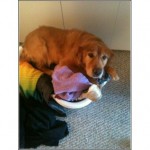 on Zeke, so I offered the help of 4 Paws 1 Heart.  Zeke was brought into the clinic and we did a blood panel on him, a stool check, and a heart worm test.  He checked out good for an old guy. The group might have a home lined up for him. 🙂
Good Luck Zeke; you deserve to live out the rest of your life in a comfortable home with lots of love.