Update August 10, 2012
These are the Kittens that I rescued, and they would not be alive today if it was not for 4 Paws 1  Heart, I am going to make a long story as short as I can I came home one day and my room mate tells me that Pretty Kitty brought her babies one
by one in her mouth to our porch there had been 4 🙁 , I take one look and realize that they are sick, horrible eye infections. lets be honest, I am  broke I cannot afford pets especially sick ones…. so i start calling shelters and doing what i can to help them, I facebooked Diana Wojo and she lead me to 4 Paws 1 Heart, i first brought in 4 kittens, when we arrived one of the kittens eyes had burst, and he had to be put down, 4 Paws 1 Heart gave me medicine to help treat the other 3, well they were not getting better and when we went back thats when another one had to be put down because his third eye lids had adhered to his eyes 🙁 trust me this was hard to deal with, and then there were two.
Jacky boom boom, and Tiger Lily. Jacky needed surgery to save his eye and again 4 Paws 1 Heart came through with the surgery and Jacky's eye looks great!!!!!!!!! I still have to get them fixed and they do still have a few challenges to overcome but because of 4 paws 1 hearts kindness these little kittens have a fighting chance!!!! I am sure i left out a lot but you get the gist Thank you so much Gina Deluca and 4 Paws 1 Heart!!! you are my hero!!!!!!!!!
---
Update 06/25/2012 – Remember Jack Sparrow — He was brought into the Emergency with two siblings; all had a severe issue with their eyes. Two of the siblings had to be humanely euthanized but the doctors decided to try and save Jack. They performed surgery on his eye and everything was a great success. This little guy is now with a foster who will be searching for his forever home. ~ diana
---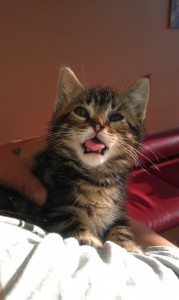 June 9, 2012 ~ Jack might need his left eye removed. Two of his siblings had to be euthanized, and we are trying to save Jack.  The litter of 4 came to us with terrible permanent trauma to the eyes.  He and his sister are still with us.  4 Paws 1 Heart has covered all costs so far, and we are looking into eye surgery..