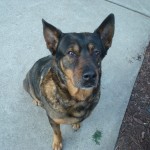 This story occurred last week-end but because we wanted to protect the dog, we wanted to control the information but now we have the story and the happy ending.
A personal and 4 Paws 1 Heart friend who has adopted a couple of homeless kittens and dogs, found this senior German shepherd mix roaming the streets of Detroit. Although the dog appeared to be well taken care of, there was no collar or identification tags. After searching through the area, he took the dog home, contacted us, and proceeded to try to locate the owner through "For the Love of Louie" and a Craigs List posting. 4 Paws 1 Heart agreed to cover the medical costs for the dog to be taken to the vet for a check up (as well as check for a micro chip). And our friend paid for Front line application.
Our friend took the dog to the vet and the female dog was found to be about 10-12 years old, very arthritic, had a bloated belly making her appear pregnant, unspayed, and with a mammary tumor. Our friend kept the very sweet and friendly dog in his home while still trying to find the owner and then, miraculously, the dog's owner ended up going to the emergency to see if the staff had seen a dog meeting their lost dog's description. Through what we feel is fate, Gina happened to be in the 'front' and heard the conversation and everything the people said met the description of the dog found by our friend.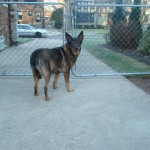 The bottom line — Yes, this beautiful sweet dog did belong to the people who just happened to walk into the emergency at the right time. They had been searching for a week but didn't know about media like "Louie's" or Craigs List. After carefully making sure of the ownership and Gina having a very serious discussion with the owners about their responsibilities, the family and dog were reunited.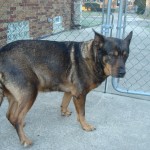 Although we all had some consternation about the fact that this very mild-mannered dog had not been spayed and not properly tagged, the bottom line is that this dog did belong to a family and, outside of the medical issues, seemed to have been well taken care of and loved. The family and the dog, our friend named her Annabelle, left with a collar with the family's number on the inside and a stern warning that should the dog get lost again, they may never see her again.
The obvious moral to the story is to make sure that your pets are always secured on your property. Never leave it to chance that all gates are closed and locked. You never know when a meter reader or others may inadvertently leave a gate open; watch for holes dug under you fence; and most importantly spay/neuter, microchip, and have an identification tag and collar on your pet. ~ diana