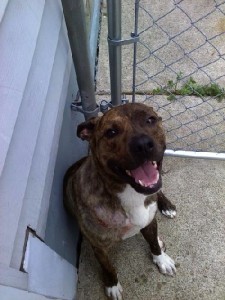 7/3/134 After receiving this call for help, 4 Paws 1 Heart responded and took care of medical expenses which included minor treatment for the wound. The finder still has not found the owner of 'Dingo' and continues to foster him. ~ diana
"I was recommended to you by NBS animal rescue. My brother had a dog show up at his house, we don't know who it belongs to but it has a very serious open wound, almost like a deep hole and several other wounds.
This dog is young, appears to be still a pup and is very very nice and gentle. We are concerned for its health and although we could foster it if no owner is found, we cannot help with medical treatment as we are unemployed at this time. It also looks as if it has been away from home for a long time or possibly abandoned.
Can your organization help or can you please recommend someone who might. This is a great dog, he was even playing with the kids although you can tell he is in pain. We feel very bad and desperately want to help him, he is definately infected in his wound.
thank you"